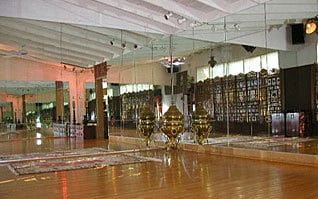 Learn belly dance technique, improvisation, folk styles, and choreograph

y
Egyptian Raqs Sharqi (oriental dance)
Egyptian Ghawazi (gypsy style)
Tunisian shaabi
Algerian Ouled Naïl
Moroccan Shikhat
Turkish belly dance
Khaliji (Gulf)
Persian Motreb
Jar dances
Saidi cane dances
Zeffah
Zar (trance dances)
Classes will be taught virtually with Zoom until dancing together is no longer a risk!
Tuesday 7 pm to 8:30 pm • Pending until there is a minimum of four students who sign up to join. Please send an email to aisha@aisha-ali.com if you are interested in attending on Tuesdays.
Thursday 7 pm to 8:30 pm • Belly Dance mixed levels
Studio: 3270 Kelton Avenue,

Los Angeles, CA 90034
Virtual classes are $10.00 each or $100 for a series of 12
Pay to PayPal account aisha@aisha-ali.com or purchase from the options below:
Private sessions are available by appointment at $100/hour
($10 for each additional person).
For more information, send an
email
or call 310-474-4867.