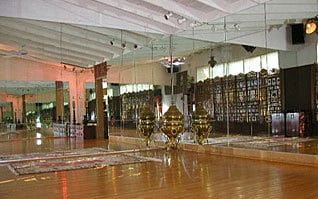 Learn belly dance technique, improvisation, folk styles, and choreograph

y
Egyptian Raqs Sharqi (oriental dance)
Egyptian Ghawazi (gypsy style)
Tunisian shaabi
Algerian Ouled Naïl
Moroccan Shikhat
Turkish belly dance
Khaliji (Gulf)
Persian Motreb
Jar dances  
Saidi cane dances 
Zeffah
Zar (trance dances)
Aisha has resumed teaching 

in-person 

Belly Dance classes for mixed levels at her studio on Tuesdays,  at 7 PM.  Students must have proof of completed vaccines to be admitted. Email or text reservations are required.
Tuesday – In-Person class 7 pm to 8:30 pm • Belly Dance mixed levels – Weekly reservations required. email aisha@aisha-ali.com or telephone 310 474-4867 cell 310 717-1158 for text.
Thursday – Zoom class 7 to 8:30 pm • Belly Dance mixed levels
In-person classes are $20.00 each or $100 for six sessions.
Virtual Zoom classes are $10.00 each or $100 for a series of 12 
Private sessions are available by appointment at $100/hour 

($20 for each additional person).
Studio: 3270 Kelton Avenue, 

Los Angeles, CA 90034
Payments can be made for any classes or bazaar purchases to aisha@aisha-ali.com with PayPal or Zelle. 
For set amounts, you can also use the convenient payment options below 
NOTE: All prepaid classes should be completed within a four month period.