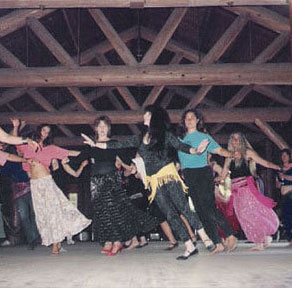 Aisha is available for workshops and seminars in the United States and abroad. Sponsors may choose one or more subjects from the list below. Workshops are a minimum of four hours or up to six hours per day. Lectures can be scheduled for part of the time if desired.
Raqs Sharqi
Danse du Ventre
Egyptian Ghawazi
Saidi Baladi
Algerian Ouled Naïl

Moroccan Shikhat
Turkish Belly Dance
Tunisian Shaabi
Khaliji (Gulf)
Persian Motreb

Jar Dances
Cane Dances
Zar (Trance Dances)
Zeffah
One-day out-of-town California workshop (4–5 hours): $1,000 plus travel and other expenses. $300 for a dance performance in an evening show, or lecture ($100 for an additional dance). Arrives on Friday evening, teaches on Saturday and leaves on Sunday afternoon.
Two-day US workshop (8–10 hours): $1,800 plus expenses and performance fee)
For US workshops, arrives on Friday, teaches on Saturday and Sunday afternoons, and leaves either Sunday evening or Monday morning.
Two-day overseas workshop (8 to 12 hours): $2,500 plus travel and expenses. Fee includes lecture and evening performance. When there are multiple workshops in the same country, plane fare can be shared among the sponsors.
For overseas workshops, Aisha arrives on Thursday, two days before the workshop, and generally leaves for the next city on the following Wednesday or Thursday. Optional small classes can be arranged during the weekdays or evenings at $100 per hour with no minimum number of hours.
There is a $500.00 fee for recording Aisha's performances for either commercial or archival purposes.
For more information, send an email or call 310-474-4867.